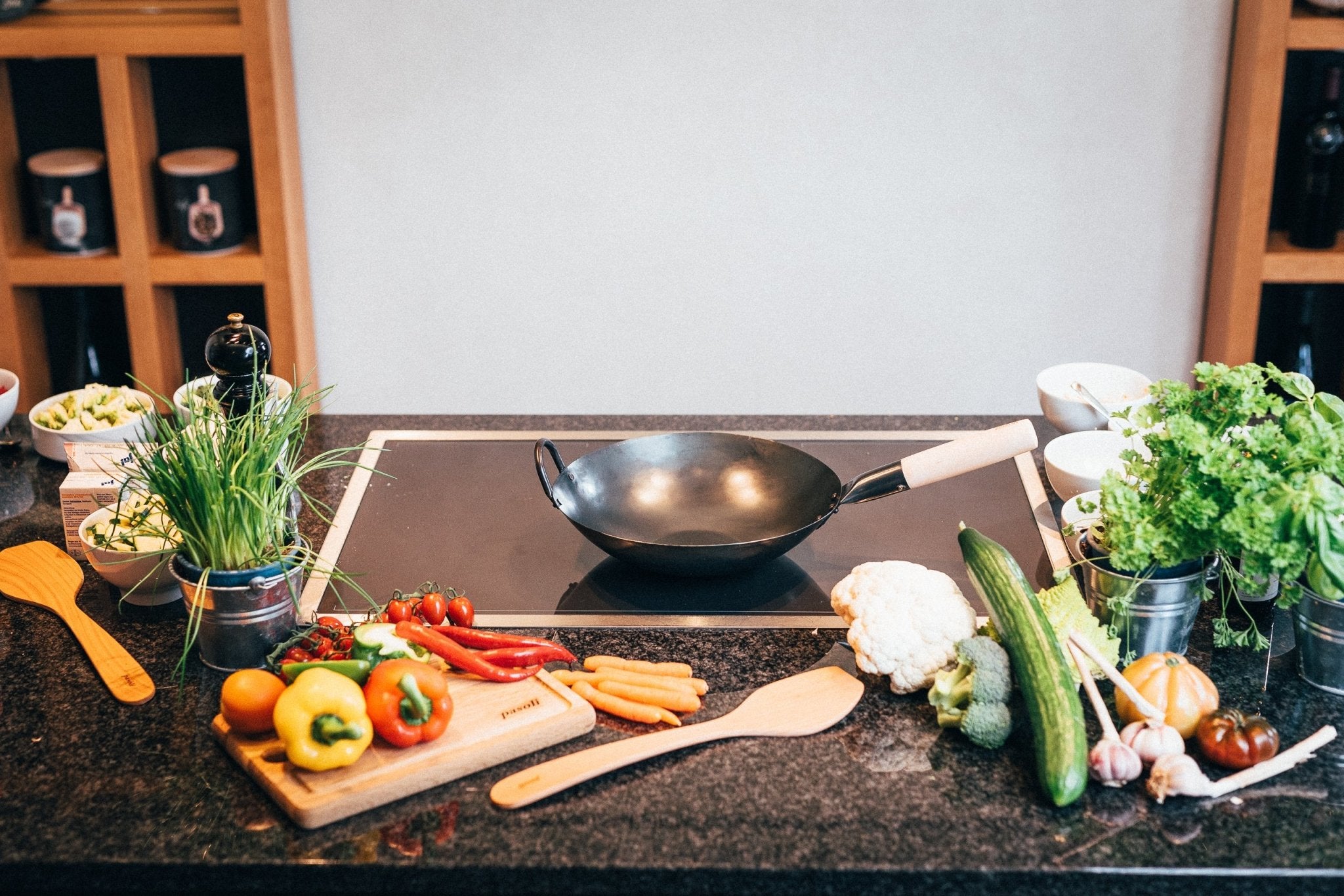 Not only do you like to eat, you also like to cook a lot. So, do you always try something new? Great, then our carbon steel wok will delight you. Because it can be used to prepare almost anything that you would otherwise have cooked in conventional pots. In other words: wok pans are not just for preparing Chinese food, you can also use them to prepare many other dishes quickly and easily. Bring home a carbon steel wok and see for yourself what options it has to offer. It's quite possible that your conventional pots will soon be obsolete. By the way: If, in addition to the name wok made of carbon steel, you also hear the spelling wok made of carbon steel, i.e. written with a "C", it is exactly the same thing.
If you want to buy a wok, you will come across different materials. A wok is traditionally made of cast iron, but can also be made of aluminum, stainless steel and carbon steel. Before we delve into this, let's clarify what carbon steel actually is. Carbon steel has a second name and it is also referred to as carbon steel. This steel consists mainly of iron and has carbon as a minor component. This steel is hardenable and can be forged, which is why it is often hammered by hand in addition to being manufactured by machine. Just like our wok pans, because they are all hand-hammered.
By the way, a carbon steel wok is the most commonly found wok in Chinese restaurants. So you can cook like a pro with your own wok. A wok from pasoli offers you numerous advantages:  The weight is many times less than a wok made of cast iron, making it easier and easier to handle.  Thanks to the wooden handle, the wok can be easily swiveled.  Since you can buy a wok from us that has been seasoned, you have a natural non-stick coating.  Unlike, for example, coated pans, the coating in the wok cannot be scratched off, which means that the cooking device is extremely robust and durable.  The heat can be regulated very well with a carbon steel wok. This allows you to practice what is known as "stir frying", a well-known Cantonese style of cooking.  In contrast to other wok pans, our woks are inexpensive to purchase.  Have you always been looking for a wok for induction? Great, you've found him! In contrast to the advantages, we could simply ignore the disadvantages, but we still want to mention them in fairness:  Carbon steel can rust. Therefore it should always be dried well.  In contrast to a cast iron wok, carbon steel is not quite as stable and can definitely deform. Especially if it falls down or hits something somewhere. But this can easily be avoided with appropriate attention. Incidentally, a wok that has a dent may no longer be as beautiful, but it is certainly still functional. You see: two disadvantages versus seven advantages – need we say more?
You can use our wok made of carbon steel in a variety of ways in the kitchen. So you can not only braise meat with it, but also smoke it. You can make soup, you can fry spring rolls, you can steam fish and vegetables. You can also blanch and roast with the wok - and much more. You see that it is worth buying a wok. This one kitchen appliance replaces numerous other things like pots and pans.
You might be wondering why our pasoli wok has a flat bottom. Well, this means it can be used in a variety of ways. You can use it on a gas or electric stove as well as over an open fire. And of course the wok pan can also be used with induction.
It doesn't take much to maintain a wok and keep it ready for use at all times. After use, it is not cleaned in the dishwasher or cleaned with detergents. As a rule, it is sufficient to wipe out the wok with a damp cloth. You can often read that you can create a natural patina with a layer of oil to prevent rust and achieve a non-stick effect. Well, we already have the non-stick effect because you can buy our wok pre-seasoned. To protect it from rust, you can actually rub it with a thin layer of oil after use and put it in the cupboard like that. It certainly won't do any harm. We will send you further cleaning instructions with your wok delivery.
One tool, many possibilities - with a wok made of carbon steel you have a cooking tool that you won't want to be without. Cheap to buy, durable and robust, numerous advantages in one and a versatility that you would otherwise only achieve with several kitchen appliances. Handling is incredibly easy thanks to its low weight and wooden style. Our pasoli woks are suitable for preparing dishes for up to four people. Have you always thought about buying a wok, but nothing has really convinced you yet? Good that you found us. Choose your favorite from our woks or order several woks at once if you are one of those people who like to spend a lot of time in the kitchen. If you have any questions, please contact us, we will be happy to help you. Otherwise, you can buy your wok pans right here on our site and have them in your hands in just a few days. And then you can finally start cooking with the new kitchen appliances. We wish you lots of fun!